public-private partnerships>



PUBLIC-PRIVATE PARTNERSHIPS
Working with partners including the US State Department, the Asian Development Bank, and the World Bank Group, we built alliances across the public and private sectors to catalyze investments in clean technology and low carbon infrastructure. Public support is critical to enhance the adoption of new technologies in a young, rapidly evolving "green" sector. To reach prices that meet or beat traditional fossil fuel-based technologies, tremendous manufacturing scale is required. And to get there, government must provide the incentives to generate early demand which can then be phased out as volume builds and costs become competitive. In addition, research and development must be promoted to generate the new technology ideas which can then be transitioned through early stage private financing. While these conditions certainly apply in developed markets, they are magnified in developing markets where cost is more of an issue and basic, core infrastructure is still being created.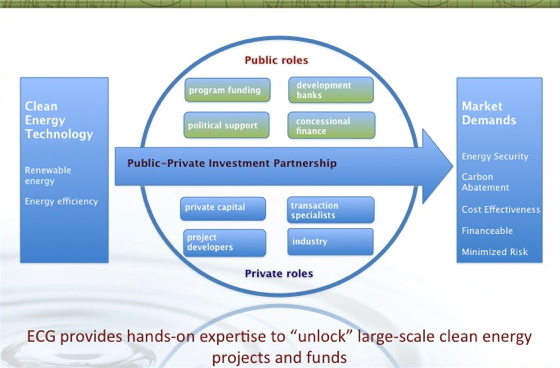 ECG and Origo, Inc were engaged by the US State Department under their Asia Pacific Partnership on Clean Development and Climate to catalyze investments in low carbon technologies in India and China. The project yielded significant results in terms of uncovering and facilitating billions of dollars of investment projects which potentially offset hundreds of millions of tons of CO2.
Also in the public-private sphere, ECG helped establish and grow the P8 Group. The P8 ("Pensions 8") was hosted by HRH The Prince of Wales through the University of Cambridge Programme for Sustainability Leadership. It brought together executives from leading public pension and sovereign wealth funds to build on their existing activities in the area of climate change. The P8 helped catalyze opportunities for further investment and the removal of barriers to large-scale capital deployment in climate change mitigation.